Heating & Cooling Installation
Commercial HVAC Installation
Lake Country Repair HVAC can manage your next commercial heating and cooling system services installation for your business, factory or apartment complex!
We install:
Air Conditioners
Furnaces
Rooftop Units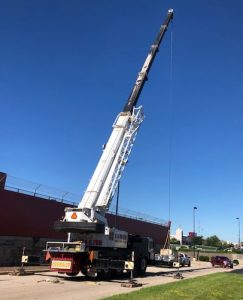 Our top rated commercial HVAC contractors will install new mechanical systems. Let our knowledgeable HVAC contractors help you find the best air conditioning unit or furnace for your specific application. Together we will think through all the various HVAC heating, air conditioning, humidity control and air quality issues.
As a professional HVAC contractor, we will set up all the correct zones in your system to keep everyone comfortable and size up your mechanical system to always be able to handle the load, whether we are talking about a 100° day for cooling or a -10° degree day for heating.
With the many modern features these systems can include it often becomes difficult for the business owner to see the forest for the trees. Let our commercial HVAC professionals help you navigate the rationale between solar ready, zones, combined rooftop cooling and water heating service, remote access and the myriad of other options and features of different systems that are on the market these days. We will take the time to explain your options in every day language and will not sell you a system that is over or under sized for your business.
Often businesses will opt for rooftop commercial HVAC air conditioning systems. There are several advantages for HVAC rooftop systems such as:
Better Indoor Temperature Control:
An inner office may not be easy to provide heating and air conditioning to when trying to access this room from a unit on an outside wall. From the roof virtually all areas of the building are easily reached.


Reduced Noise Levels:
No more noisy fan sounds outside office windows!


Easy Access:
Even though we need a ladder to get to your HVAC units, they are easy to find on the roof and we do not have to fight bushes and trees. The roof also provides a cleaner surface as less dirt build up occurs, saving you as business owner money on your investment. It's safer too as potential for vandalism is greatly reduced.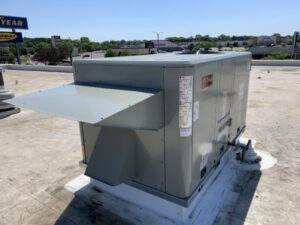 Better aesthetics and Space Saving:
By having a rooftop HVAC unit you save valuable space on the ground and are able to focus on a nice view of the building and parking for your employees.


Reduced Cost:
Often these systems are cheaper to install as they are able to tie into existing duct work very efficiently.


Rooftop units are available in gas and electric versions.
We are ready to assist you in any way we can and look forward to providing you with the information you need. Call us at: (262) 443-4492 or send us an email with your questions, requirements or to request a quotation or service.